Montly Spotlight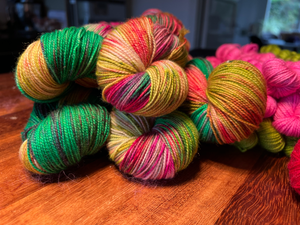 Jingle Bell Bronze Sparkle Sock Set
Welcome to the website of WeStYarn. In this shop I sell hand dyed yarns for knitting, crochet, weaving and fibre tops for spinning & felting. All are dyed by me (Henny) in my studio in Schoorl.
Thanks everybody for shopping with us during the Sale. Right now I have one specialty and that is the Jingle Bell Bronze Sparkle Sock Set found here
There are just a few sets left. Shipping will take place after December 5th, on time for your xmas gifts.
Happy visit,
Henny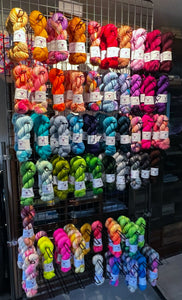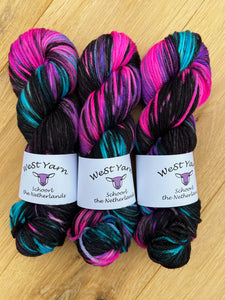 Rosy Dreams Bioluxe Sock
Whimsical Magic Bioluxe Sock
Warp Speed Bioluxe Sock

De kleuren zijn zo prachtig, de strengen liggen te stralen op mijn
tafel. Het voelt zo zacht aan. Ik heb 3 strengen ontvangen, genoeg voor 3
paar sokken en de restjes kunnen gebruikt worden om nog een paar te
breien. De kleuren zijn mooi op elkaar afgestemd.

Marry O.
Very beautiful and soft !

I'm knitting a shawl for my mother with this yarn.
It's a very deep beautiful red.
It's smooth and doesn't prickle.
I love this yarn !

由美 岩. from Japan
Gorgeous yarn in a fantastic colourscheme, tempting enough to take a
bite. Colours are beautiful and stay beautiful, a joy to knit and to
wear it. Always with a little stitchmarker note -thank you Henny!

Edie