Montly Spotlight
FREE SHIPPING* for the MKAL 2023
Welcome to the website of WeStYarn. In this shop I sell hand dyed yarns for knitting, crochet, weaving and fibre tops for spinning & felting. All are dyed by me (Henny) in my studio in Schoorl.
Already prepping for the Mystery Shawl Call of Stephen West? I've made some photo's of available colorways. The call starts October 5th, so you have the time to deliberate. Don't wait too long.. most of the colorways have low stock numbers. This week you have free shipping with the code:
MKAL2023
What better to do during the rainy days than starting a project? I've started the half + half wrap from Purl Soho. A mindless knit of a 6 skein shawl. I'm using my beautiful soft WeStYarn Merlin. You can purchase the WeStYarn Merlin currently with a 20% discount. No code needed, you will find them in the SALE section of the shop.
3 will do for a summer tee with short or 3/4 sleeves. Be quick, gone = gone.
Have a nice visit,
Henny
*This discount is maximized to €10 per shipment. So worldwide shipping is not FREE but reduced costs.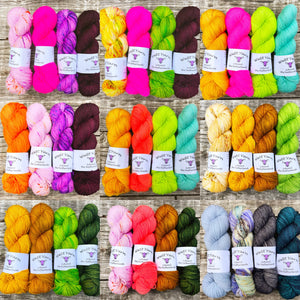 Electric Jungle Bioluxe Sock
Mandarin Skies Bioluxe Sock
Caribbean Twilight Bioluxe Sock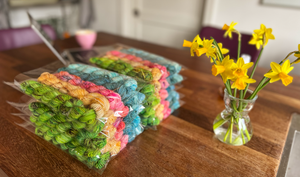 De kleuren zijn zo prachtig, de strengen liggen te stralen op mijn
tafel. Het voelt zo zacht aan. Ik heb 3 strengen ontvangen, genoeg voor 3
paar sokken en de restjes kunnen gebruikt worden om nog een paar te
breien. De kleuren zijn mooi op elkaar afgestemd.

Marry O.
Very beautiful and soft !

I'm knitting a shawl for my mother with this yarn.
It's a very deep beautiful red.
It's smooth and doesn't prickle.
I love this yarn !

由美 岩. from Japan
Gorgeous yarn in a fantastic colourscheme, tempting enough to take a
bite. Colours are beautiful and stay beautiful, a joy to knit and to
wear it. Always with a little stitchmarker note -thank you Henny!

Edie